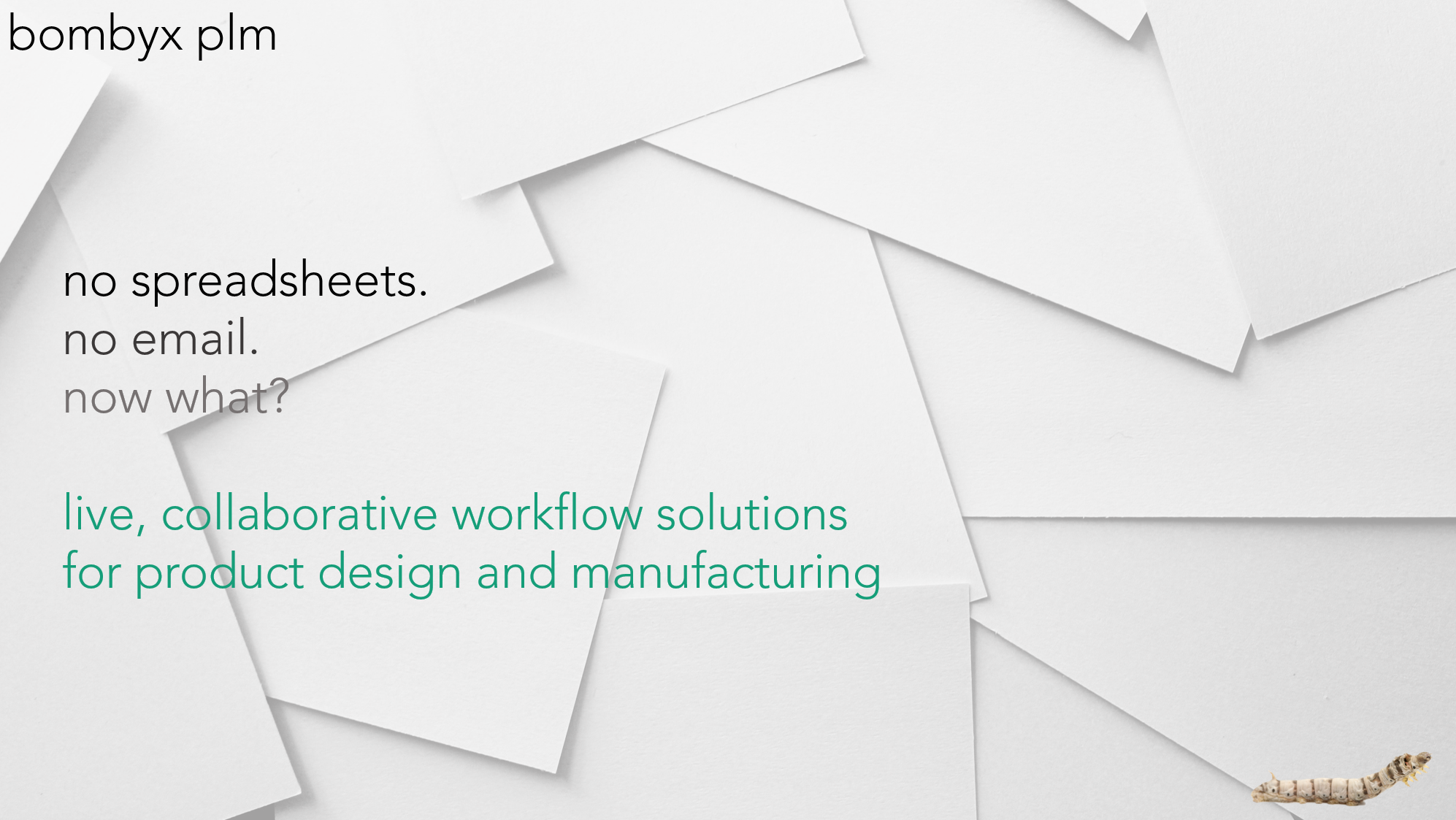 Product Lifecycle Management (PLM) is the process of managing the entire lifecycle of a product from inception, through engineering design and manufacture, to service and disposal of manufactured products.
PLM integrates people, data, processes and business systems and provides a product information backbone for companies and their extended enterprise.
The goals of PLM are to reduce time to market, improve product quality, reduce prototyping costs, identify potential sales opportunities and revenue contributions, maintain and sustain operational serviceability, and reduce environmental impacts at end-of-life.
PLM systems help organisations in coping with the increasing complexity and engineering challenges of developing new products for the global competitive markets.
The Problems: Analog Email and Spreadsheets
The Solution: Digital Transformation with Bombyx PLM
The Return on Investment of our PLM


The Benefits of Bombyx PLM
available on demand
no conflicting modifications or deletions. full version control and audit trail
shrink time to market
reduce manual errors
savings through the re-use of original data
reduce waste
improve supplier collabs
improve operational efficiency
reduce cost of quality
permissions controlled functional access
drive visibility and accountability through ownership
savings through the complete integration of engineering workflows
automate review processes and approvals with workflow
easily find and re-use components/designs
collaborate easily across the entire organisation
ability to provide manufacturers with access to a centralized product record
ability to quickly identify potential sales and revenue contributions
documentation that can assist in proving compliance
improved forecasting to reduce material costs
improved product quality and reliability
maximize supply chain collaboration
reduced prototyping costs
overall increase in productivity
improved team morale
What our collaborators are saying
"It's very exciting to see something that matches our expectations of how things should be, and a pleasure to deal with people who "speak our language".
This is why we ultimately felt comfortable and chose to sign on with Bombyx PLM."
Michaela Silverman
Rekucci
"Out of all the PLM systems we've seen, Bombyx PLM is by far the most attractive in aesthetic, and definitely the easiest to use and navigate."
Marie Laskowski
Missguided
"Bombyx PLM is incredibly easy to use, it gives us a clear overview of our developments and takes out a lot of the administrative work out of our workload. It is also really great value for money!"
George Kara
GEORGEBLACK