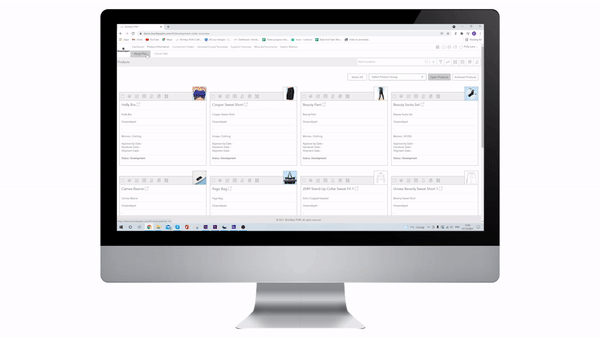 The range plans add-on is an overview of your product range/lines with all the design and financial parametres set out. The plan outlines the specifics of your lines; from how many styles you will have, to what materials and colourways will be used, before you dive into the large scale production.
This add-on is useful for teams to follow as a whole, but most importantly it gives the buyer a clear vision of the products, their requirements, and the logistics of their lifecycle. The best part this feature is that it's automatic! No more duplicating your data across multiple shared sheets for the relevant team members. This range plan updates as you work on your product lines.
Examples of what information is included in the range plans:
• Total number of pieces per production of a product including repeat orders
• Preview of the product image
• Product details and categories
• Sizing
• Materials used
• Manufacturing details
• Delivery details
• Negotiations History
• Cost price, selling price, and sales intake
• Profit mark-up and margin percentages
• Custom section builder (anything you want in your range plans)
What our collaborators are saying
"It's very exciting to see something that matches our expectations of how things should be, and a pleasure to deal with people who "speak our language".
This is why we ultimately felt comfortable and chose to sign on with Bombyx PLM."
Michaela Silverman
Rekucci
"Out of all the PLM systems we've seen, Bombyx PLM is by far the most attractive in aesthetic, and definitely the easiest to use and navigate."
Marie Laskowski
Missguided
"Bombyx PLM is incredibly easy to use, it gives us a clear overview of our developments and takes out a lot of the administrative work out of our workload. It is also really great value for money!"
George Kara
GEORGEBLACK 
"Bombyx have under promised and over delivered in their commitment to successfully implement their PLM into our business. They go above and beyond to support you, understand your challenges, present solutions, and work with you to overcome your bottle necks. It's been a true partnership from day one"
Neil Weaver
Cath Kidston