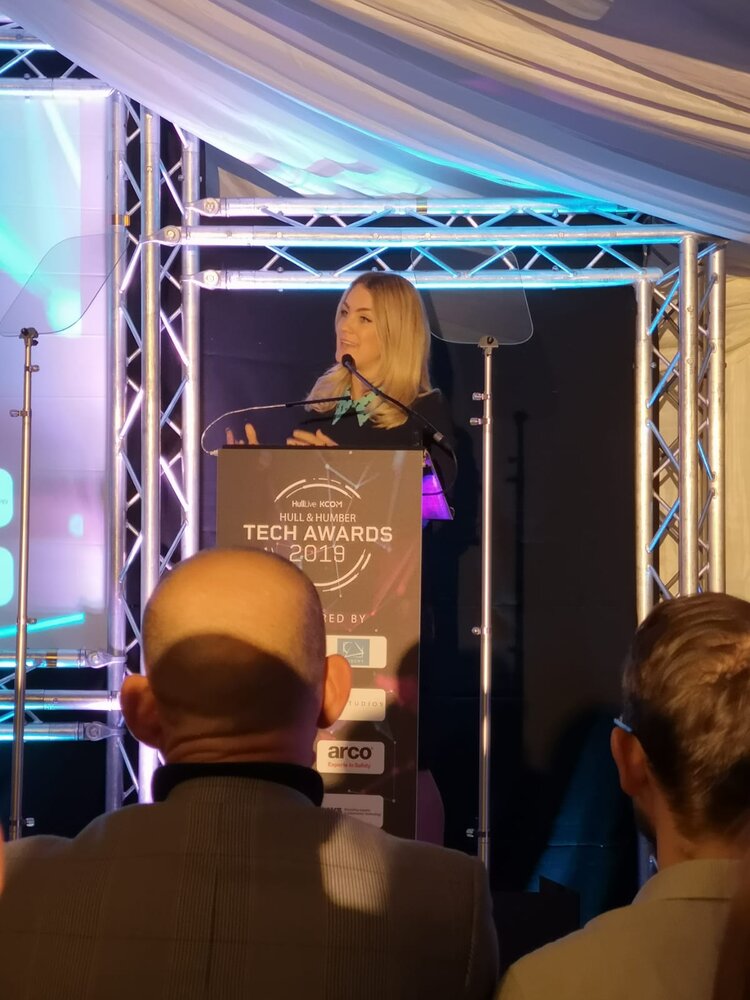 Two-Day Celebration of Tech Culminates in Hull and Humber Tech Awards
This week, it was fantastic to see Hull's tech and digital community come together at the first-ever Tech Expo Humber, followed by an evening of celebration at the fifth Hull and Humber Tech Awards.
On Tuesday 1 and Wednesday 2 October, the region's top technology businesses gathered at the Bonus Arena in Hull to showcase their wonderful work and inspire a new generation of talent.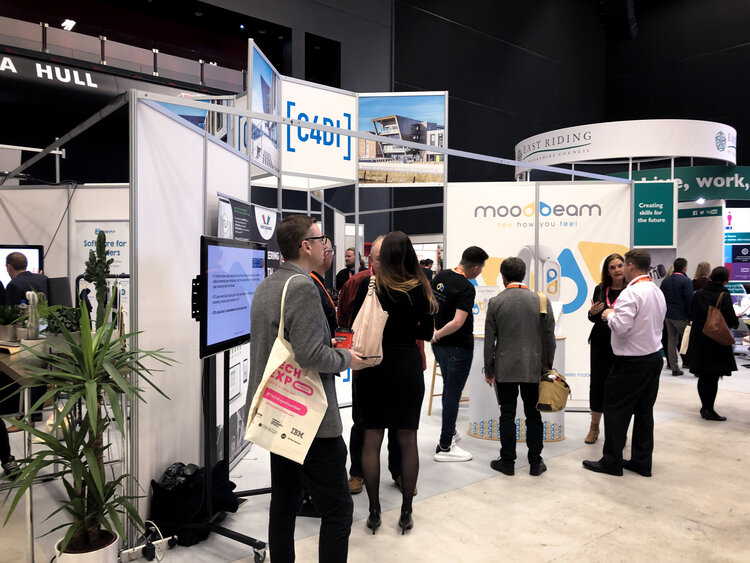 "What started out as a day to engage local schools and showcase opportunities in the region's tech industry, has now turned into a huge two-day high-profile and nationally-recognized event," David Keel, Chair of C4DI, enthuses.
Filled with Rubix-cube-solving robots, Arduino-powered gadgets, VR headsets, and even a robot you can play Connect 4 with, the Expo was a vibrant cross-section of the incredible work taking place in tech and digital in Hull and the surrounding areas.
C4DI was well-represented by some of our own home-grown tech startups and businesses. NFire Labs, Nerdonic, Bombyx, iHatchApps, Moodbeam, 54 Degrees North, Arc Studios, Influence Media, and Ron Dearing UTC each demonstrated their skills, software, and products to Expo attendees over the two days.
"What an amazing two days at the Tech Expo, I've never been so proud of C4DI and all of the residents, it's been a busy two days, but full of exciting technology and innovation," Louise Cooke, C4DI Community Manager exclaims.
On top of all of this, an abundance of notable speakers took to the stage to talk technology and digital, including Meredith Stowell and Sherin Mathew of IBM, Ola Otaiku of Sky UK, Bruce Daisley of Twitter Europe, and Sean Royce of KCOM.
Meanwhile, several C4DI members shared their stories and experiences in the sector, including Matt Dass, Bob Spence, Rob Lewis, Jonathan Elvidge, Christina Colmer McHugh, Phil Benson, Louise Cooke, Claire Clark, and Lucy Blackley.
"The two days have been incredible for us; it's been absolutely major – so important – connecting with people in tech that share the same values as we do. The future is bright for tech with a heart, and for those that put people at the core of their inception," Lucy Blackey, Founder, and Director of Bombyx PLM tell us.
Hayden Barton, founder of Nerdonic was equally thrilled with the experience:
"The Tech Expo was amazing, with a huge amount of people turning up interested in tech, and being in Hull is a great addition to the already thriving and growing tech businesses and community around here. Many people who visited my stall were young and interested in learning more about electronics, which was nice to see, as well as people from more traditional companies looking to transform parts of their business into the tech space."
"Tech Expo Humber was a fantastic opportunity to network with some of the regions – and the world's – most exciting and innovative businesses. I'm delighted and honored that my business could be there to exhibit and represent C4DI. Looking forward to 2020," fellow exhibitor Mike White founder of iHatchApps adds.
The two-day Expo culminated at Fruit on Humber Street, recognizing some of the best people in tech in our region.
We're extremely proud of our members, many of whom were shortlisted and winners at this year's Hull and Humber Tech Awards.
Bombyx won Tech Startup of the Year while Sauce scooped up Tech Team of the Year. Company members Rockar Digital won Tech Disruptor of the Year and Wykeland was crowned Outstanding Contribution to Tech.
Additionally, we'd like to congratulate finalists Cloud Design Box, Hayden Barton of Nerdonic, Courtney Farrow of Bloom, APD Communications, and Trade Chimp.
We'd just like to say a huge thank you to everyone involved and who came along to the Expo. Without you, this fantastic inaugural event would never have taken place.