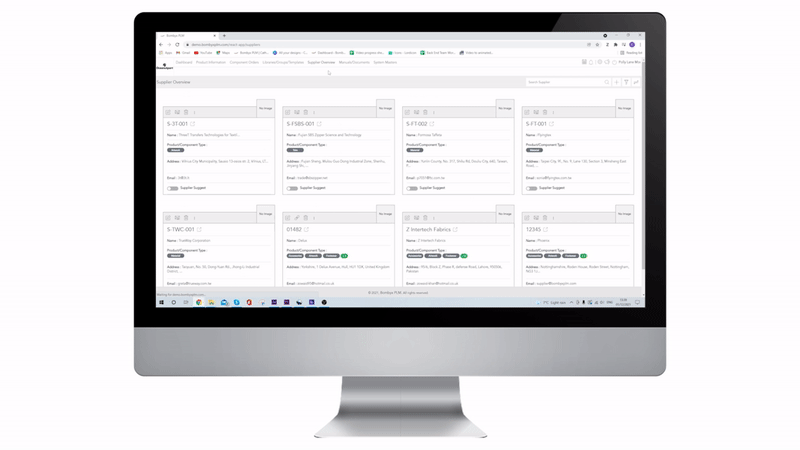 Supply chain integration allows you to bring your suppliers on board to see exactly what you're seeing, keeping everything in one place with no modifications as time goes on.
There's nothing worse than an excel sheet going out, and as time goes by the formulas for the sizing of your products sizes are broken, with the risk of it going to production with the unseen errors showing up in your warehouse or distribution centre.
The supply chain integration add-on has a view only platform for those that you're integrating. This enables you to keep in control of your product developments and orders.
A key feature with this add on is the 'suggest tool'. It allows suppliers to see errors within a component of the product, and suggest the correction. This would fire a notification to the company user, in which they can either approve or reject. If approved, the information will automatically up to to the approved suggestion. if rejected, it will remain as it was.
With the approvals and rejections submitted, the suppliers and company are able to add notes to these suggestions and their actions, ensuring people know the reason for the change request and response.
What our collaborators are saying
"It's very exciting to see something that matches our expectations of how things should be, and a pleasure to deal with people who "speak our language".
This is why we ultimately felt comfortable and chose to sign on with Bombyx PLM."
Michaela Silverman
Rekucci
"Out of all the PLM systems we've seen, Bombyx PLM is by far the most attractive in aesthetic, and definitely the easiest to use and navigate."
Marie Laskowski
Missguided
"Bombyx PLM is incredibly easy to use, it gives us a clear overview of our developments and takes out a lot of the administrative work out of our workload. It is also really great value for money!"
George Kara
GEORGEBLACK 
"Bombyx have under promised and over delivered in their commitment to successfully implement their PLM into our business. They go above and beyond to support you, understand your challenges, present solutions, and work with you to overcome your bottle necks. It's been a true partnership from day one"
Neil Weaver
Cath Kidston