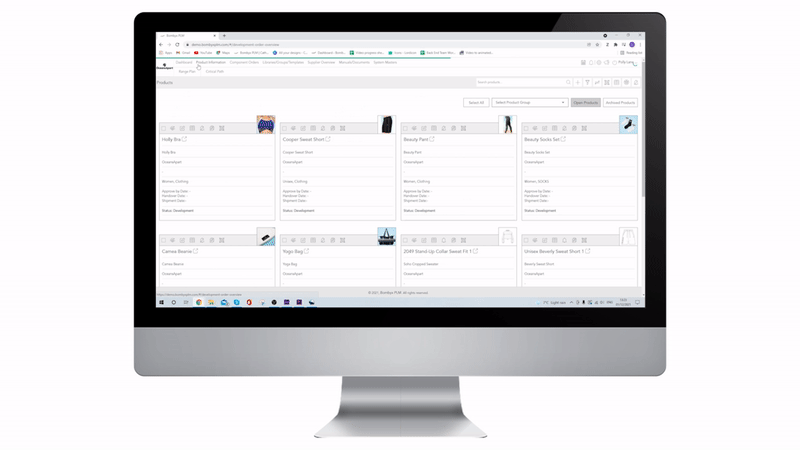 The critical paths add-on is a production plan that contains a list of all of the necessary activities that are required to be done within a particular time frame, and the time they are actually completed. This ensures that the production orders are shipped successfully within the estimated time of delivery.
Product teams maintain the critical path in order to identify the crucial tasks, which if not attended to, could impact on delivery schedules for their product lines. 
In the fast-paced product design industry, the global sourcing environment is increasingly complex. With numerous processes, multiple functions and suppliers in different countries, it's a necessity that they all work together as a virtual orchestra to produce products within a the required timeframes.
The critical paths add-on allows users to view whole ranges to see the status of all of their products together, as opposed to entering each individual data pack separately. This allows the user to receive their time checking up on their products developments and production.
Additionally, if a company requires more information, they are able to add custom fields to ensure the critical paths cater for their business model and requirements.
What our collaborators are saying
"It's very exciting to see something that matches our expectations of how things should be, and a pleasure to deal with people who "speak our language".
This is why we ultimately felt comfortable and chose to sign on with Bombyx PLM."
Michaela Silverman
Rekucci
"Out of all the PLM systems we've seen, Bombyx PLM is by far the most attractive in aesthetic, and definitely the easiest to use and navigate."
Marie Laskowski
Missguided
"Bombyx PLM is incredibly easy to use, it gives us a clear overview of our developments and takes out a lot of the administrative work out of our workload. It is also really great value for money!"
George Kara
GEORGEBLACK 
"Bombyx have under promised and over delivered in their commitment to successfully implement their PLM into our business. They go above and beyond to support you, understand your challenges, present solutions, and work with you to overcome your bottle necks. It's been a true partnership from day one"
Neil Weaver
Cath Kidston